History of Our Martial Arts Organization

Recognition of the Filipino Fighting Art
WORLD SIKARAN BROTHERHOOD is an independent martial arts organization recognized by the Asian Karate Association (composed of Japan, Korea, China, and the Philippines) since November 6, 1966. The AKA also recognized Sikaran as an independent sovereign Filipino fighting art on the same date. Under the leadership of Grandmaster Meliton C. Geronimo, Supremo of Sikaran, this fighting art has flourished from its beginnings in Baras, Rizal to being practiced all over the world.


Passing of Sikaran Authority
In March 2015, the WORLD SIKARAN BROTHERHOOD held the "Passing of the Torch", transferring the presidency and Sikaran authority from Supremo Meliton C. Geronimo to his son Pantas Meliton S. Geronimo, Jr. The celebration was attended by officials of Baras and other towns in Rizal, as well as the officials of the Rizal Provincial Government and other provinces. There were Provincial Officials from as far north as Baguio City to as far south as the Bicol Region.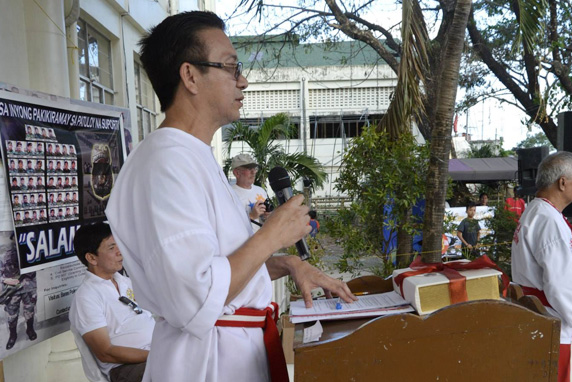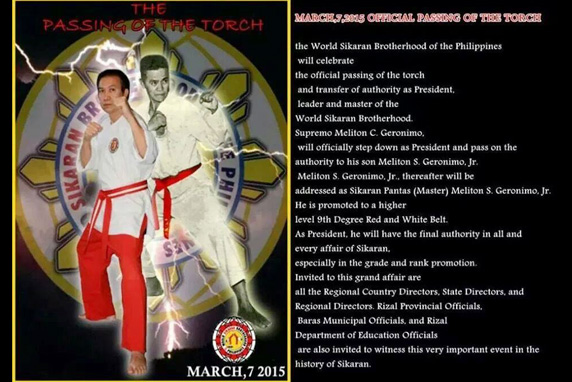 The Development of Sikaran as a Sport
For centuries, Sikaran was just a regional activity, until in the 1950's, when Meliton C. Geronimo set out to transform it into an international modern competitive sport. He introduced Sikaran to the martial arts world in 1964, when he competed in the First Asian Karate Championships, exchanging kicks and punches with competitors from Japan, Korea, and China. His style of fighting earned him the "Most Courageous Fighter Award," the first international award in the field of unarmed combat earned by a Filipino. The martial art was also developed and promoted by the Supremo as a cure for the use of illegal drugs in the Philippines back in 1960's.


PANTAS MELITON S. GERONIMO, JR. AND JIMMY C. GERONIMO